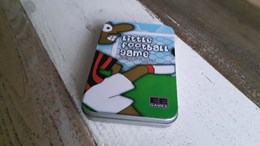 Little football Game
€
14
.
50
(The pictures only show 2 teams. A game comes with 3 teams of your choice)
Jump into the world of football. Choose your favourite team. Do you want experienced or talented players? Choose your tactics. Go for an all out attack or defending style? Play one game or a tournament against your friends. It's yours to decide. A new card game for 2 players which stands on it's own, but can also be expanded with more teams!
Choose 3 teams to fill up your game box. Tell me which teams you want when you order the game.
Take a look at www.elveneargames.nl/LFG.html to see which team there are. Click the team logo's.
something for you?